As we enter the holiday season full swing, I wanted to share with you some ways to enjoy the Washington DC area for free. I've included free light displays, musical performances, community parades and special events in Washington DC, Maryland, Virginia. Get ready for the fa-la-la-lidays!

Christmas Tree Lighting Ceremonies - Various Dates. Christmas tree lighting ceremonies are a great way to kickoff the holiday season with family and friends.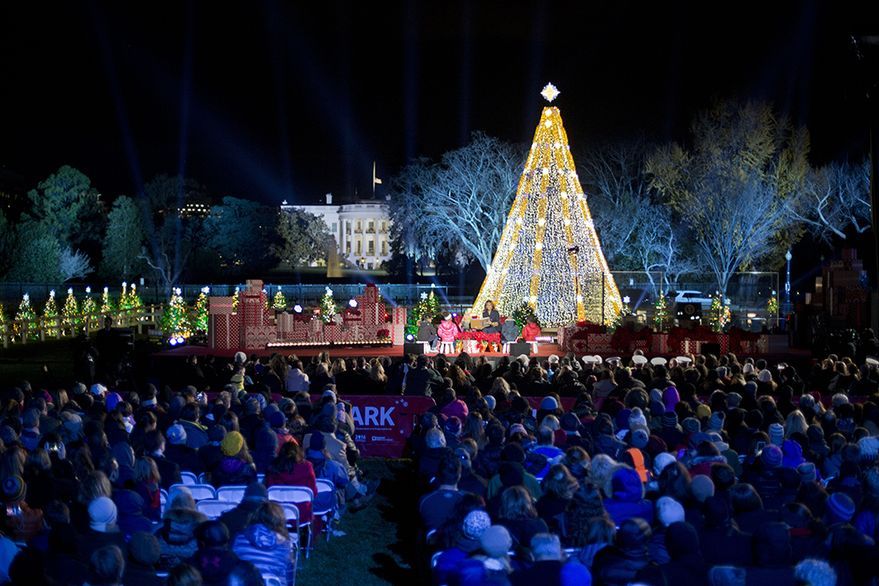 Find free holiday events in Washington DC, Maryland and Northern Virginia.
Season's Greenings at the Botanic Gardens - November 24, 2016 through January 2, 2017. During the holiday season, the U.S. Botanic Garden presents "Holiday Magic", a unique exhibit featuring model trains and incredible replicas of Washington, DC's most famous buildings and monuments.

National Hanukkah Menorah - December 25, 2016. A National Hanukkah Menorah is lit on the White House grounds, at the Ellipse during the eight day Jewish holiday. Festivities at the lighting ceremony include musical performances and hot latkes and donuts.
This year's celebration will feature the US Air Force Band. The menorah will be lit each night of Hanukkah.

ZooLights at the National Zoo - November 25, 2016-January 1, 2017, 5-9 p.m. The National Zoo presents a seasonal display of thousands of sparkling animated lights, winter-themed crafts, ice sculpting demonstrations, choral groups, and storytellers.

Festival of Lights at the Washington, DC Mormon Temple - December 3, 2016 - January 3, 2017. The Washington, DC Church of Jesus Christ of Latter–day Saints, also known as the Mormon Temple, is open to all during the Christmas season. This impressive church and its surrounding grounds shine brightly with more than 450,000 sparkling Christmas lights. Each night, a different local musical group performs a live concert in a state-of-the-art theater.
National Christmas Tree - Lighting Ceremony - December 1, 2016. Open through January 1, 2016. The National Christmas Tree and the Pathway of Peace is illuminated during the holiday season each evening from dusk until 11 p.m. Seasonal displays include a Yule log, a large-scale model train and a Christmas manger. Musical performances by volunteer choirs and dancers are held nightly on the Ellipse stage. Tickets are required for the lighting ceremony.

Bethesda's Winter Wonderland - December 3, 2016. The community holiday celebration features a variety of entertainment and performances, a live ice sculpting presentation and a visit from Santa Claus.

Manassas Christmas Parade - December 3, 2016, 10 a.m. Old Town Manassas. See amazing floats, local celebrities, live performances, marching bands, equestrians, animated characters, giant balloons, and Santa at the Manassas Christmas Parade. The parade route begins at Mathis Avenue and concludes at the intersection of Center Street and Grant Avenue.

Middleburg Hunt Christmas Parade - December 3, 2016. Approximately 100 horses, riders in red coats and dozens of hounds come through the town of Middleburg. Immediately following the Hunt, the Middleburg Christmas Parade features a unique assortment of floats, marching bands, local community groups, antique fire trucks, and a variety of animals including horses, llamas and dogs.

Alexandria Scottish Christmas Walk - December 3, 2016. Hundreds of Scottish clansmen march through Old Town Alexandria with their bagpipes in a traditional holiday parade. Also participating are pipe and drum bands, Scottish dancers, re-enactment groups, Scottie dog groups, dignitaries and, of course, Santa Claus.

Alexandria Holiday Boat Parade of Lights - December 3, 2016. A favorite holiday celebration in both Old Town Alexandria and Washington, DC. Festively decorated pleasure boats light up the sky along the Potomac River including 50 powerboats, sailboats and the District's fireboat, the John Glenn spouting water 70 feet into the air.

Wolf Trap National Park Holiday Sing-A-Long - December 3, 2016, 4 p.m. Sing Christmas carols and Hanukkah songs with the United States Marine Band vocal groups from the metropolitan Washington area. The audience is invited to bring candles to light during the last verse of "Silent Night," the final song of the program. There is also a 'Jing-A-Long' during the singing of Jingle Bells, so bring a bell along with your candle. Admission is free and no tickets are required.

Leesburg Holiday Parade and Festival - December 10, 2016. Catch your Christmas spirit and bring the whole family to see Santa and his friends parade down King Street, through the heart of historic Leesburg.

Annapolis Christmas Lights Boat Parade - December 10, 2016. The Annapolis community celebrates Christmas in style with the Eastport Yacht Club Parade of Lights, an annual holiday tradition with boat owners showing off their Christmas light decorations through the Annapolis Harbor.

Waterskiing Santa - December 24, 2016. Alexandria, VA - new location this year! This unusual annual event features a water-skiing Santa, flying elves, the Jet-skiing Grinch, and Frosty the Snowman performing on the Potomac River. Join in the Sing-along.

Candlelight Tour of Historic Houses of Worship - December 26, 2016, 4-9 p.m. Frederick, Maryland. Each holiday season, More than a dozen historic churches in Downtown Frederick open their doors to the public for special programs celebrating religious diversity and local history.