Preparing to Sell in the Summer
You already know that if you want to sell your D.C. area home, you have to spiff it up, and create curb appeal. This can mean different things in different seasons. For instance, you don't want holly wreaths on your door in July, right? The rules are pretty much the same, only you have to think about what will appeal when the weather is hot and muggy.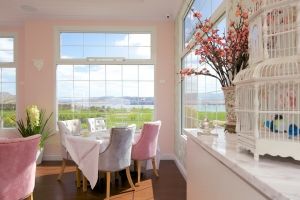 Begin in the kitchen. You may want to put up fresh, summery curtains - something that seems to invite the sunshine in. Any area rugs should also be of a light nature. This can be especially important if your counters, cabinets, and appliances are darker colors.
In the bedrooms, stow away the puffy comforters and heavy, fuzzy blankets. Just looking at them can make you feel stiflingly hot. Opt for a fresh, light bedspread in a summery color, or even in white. There again, you can change the area rugs for the season.
In the living area, you have a lot of options. If your furniture is a light color, that's great. If you're into browns and earthtones, though, you might want to lighten things up a bit. You can cover the furniture with some light, cheerful slipcovers. Another way to brighten things up is to put away any heavy lap throws or afghans, and replace them with soft, light ones. You can also exchange dark throw pillows with brightly colored ones.
Since you will need to depersonalize the place, you can replace family photos and such with summery scenes, like pictures of beach houses, or ocean landscapes. For accessories, you can get beachy items like bleached shells, starfish, or pieces of coral.
What about your dining area? Now is the time to bring out the white linens, like tablecloths and napkins. If you are setting the table for a showing, be sure the placemats are summery, and that you use your lightest colored dishes. A lace table runner with some flowers as a centerpiece can brighten things up considerably.
Walk through the home as if you were a potential buyer. Sometimes people use a darkened lampshade for ambience, especially during the winter months. You might want to bring in something lighter for summer. The same principle applies to the window treatments. Take down the heavy velour drapes, and hang some sheers that will let the sun shine into your home.
When you do your summer gardening, be sure things are nice and cheery, but tidy. Selling your home in summer needn't be a hassle. You can call me, Casey O'Neal for help with any aspect of selling or buying a home.