Homebuyers in Northern Virginia Push Prices to Record Peak; NVAR/GMU-CRA Forecast Adjusted to Reflect Region's HQ2 Effect


A dramatic first-quarter uptick in sales activity prompted a revised 2019 housing market forecast by the Northern Virginia Association of Realtors® (NVAR), in partnership with the George Mason University Center for Regional Analysis (GMU-CRA).
"Escalating prices and a diminishing number of available homes for sale combined to cause us to revisit 2019 projections for our NVAR market footprint," said NVAR President Christine Richardson of Weichert, Realtors®. Members of an NVAR/GMU-CRA forecast focus group reconvened in March to reconsider regional market projections that were made in November 2018. The NVAR region covers Fairfax and Arlington counties, the cities of Alexandria, Fairfax and Falls Church and the towns of Vienna, Herndon and Clifton.
Median prices of homes sold in Arlington County are expected to show a 17.2 percent year-over-year increase by the end of 2019, announced GMU-CRA Director Dr. Terry Clower at the June 7, 2019 NVAR Finance Summit. This reflects a significant change from the NVAR/GMU-CRA original 2019 projected year-over-year increase of 5.1 percent. The median sale price in Arlington County in May was $615,000, a 9.82 percent increase compared to May 2018.
"This is a market response to the Amazon HQ2 announcement with investors competing with residents for a shrinking number of homes for sale. The price gains we foresee do not reflect an overall bubble in housing prices but rather reflect the specific circumstances of our current market" Clower said.
The Fairfax County median sale price is expected to see a 2019 year-over-year gain of about 7 percent, Clower said. This is more than double the original 3.1 percent projected year-over-year growth.
"The average sold price to original list price ratio in May was 99.9 percent for the NVAR region, and over 100 percent in both Arlington and Alexandria," said Richardson. "Ratios at that level reflect a housing market with multiple offers on the table, and that's what we're continuing to see."
Regarding possible limits on how high prices will climb, Clower said that mortgage qualification is the biggest restraint. "Our folks in the lending industry are constrained by the notion that they expect that [buyers are] actually able to pay [the loan] back."
For the second consecutive month, the number of homes sold in the NVAR region reached a 14-year high. Buyers in the NVAR market closed on 2,381 homes in May – the highest number of May total sales since 2005, when there were 3,213 homes sold.
The pace of sales continued to climb in May, with homes selling within an average of 27 days on market (DOM).
"With average days on market down 42 percent compared with last May, the result is less than one month of inventory in some areas," said NVAR Board Member Ritu Desai, of Samson Properties.
"Speculation on higher pricing once Amazon settles in the region has caused many sellers not to sell their homes now," said Desai. "While the number of potential buyers entering the housing market in the Northern Virginia region is rising, the ripple impact of low inventory and high demand has caused a tough market for them," she said.
Clower explained that some homeowners have also decided that since Amazon is coming, maybe they can live in their house a bit longer and then convert it to a rental property.
"I'm really concerned about the number of ownership to rental conversions we may have going forward, particularly as valuations get higher," Clower said.
Based on revised projections, the number of available homes for sale in Fairfax County is expected to be down 10.2 percent at the end of 2019. The decline was previously projected to be just 2.4 percent.
"Arlington inventory has fallen off a cliff," Clower said, and is expected to be down by 18.8 percent at the end of 2019. The original forecast showed a 7 percent year-end decline.
The number of available homes in Alexandria is expected to show a year-end decline of 37.5 percent in 2019. Previously, that decline was projected at 0.6 percent.
"Buyer interest is not likely to decline in the near term," said NVAR CEO Ryan Conrad. "Employment across the D.C. Metro region continues to be healthy, and our partners at GMU-CRA tell us that almost all of the regional job growth is happening here in Northern Virginia."
Panelists at the June 7 NVAR Finance Summit noted that much of the new Amazon recruiting will focus on international prospects, Conrad explained. "Our members are prepared to work with all newcomers to our region, and many local Realtors® have already earned their Certified International Property Specialist (CIPS) designation or are planning to do so at NVAR later this year," said Conrad.
Mortgage rates continue to be a potential motivating factor for prospective homebuyers. Average rates on both 30-year fixed and 15-year mortgages dropped on Tuesday, to 3.99 percent and 3.25 percent respectively.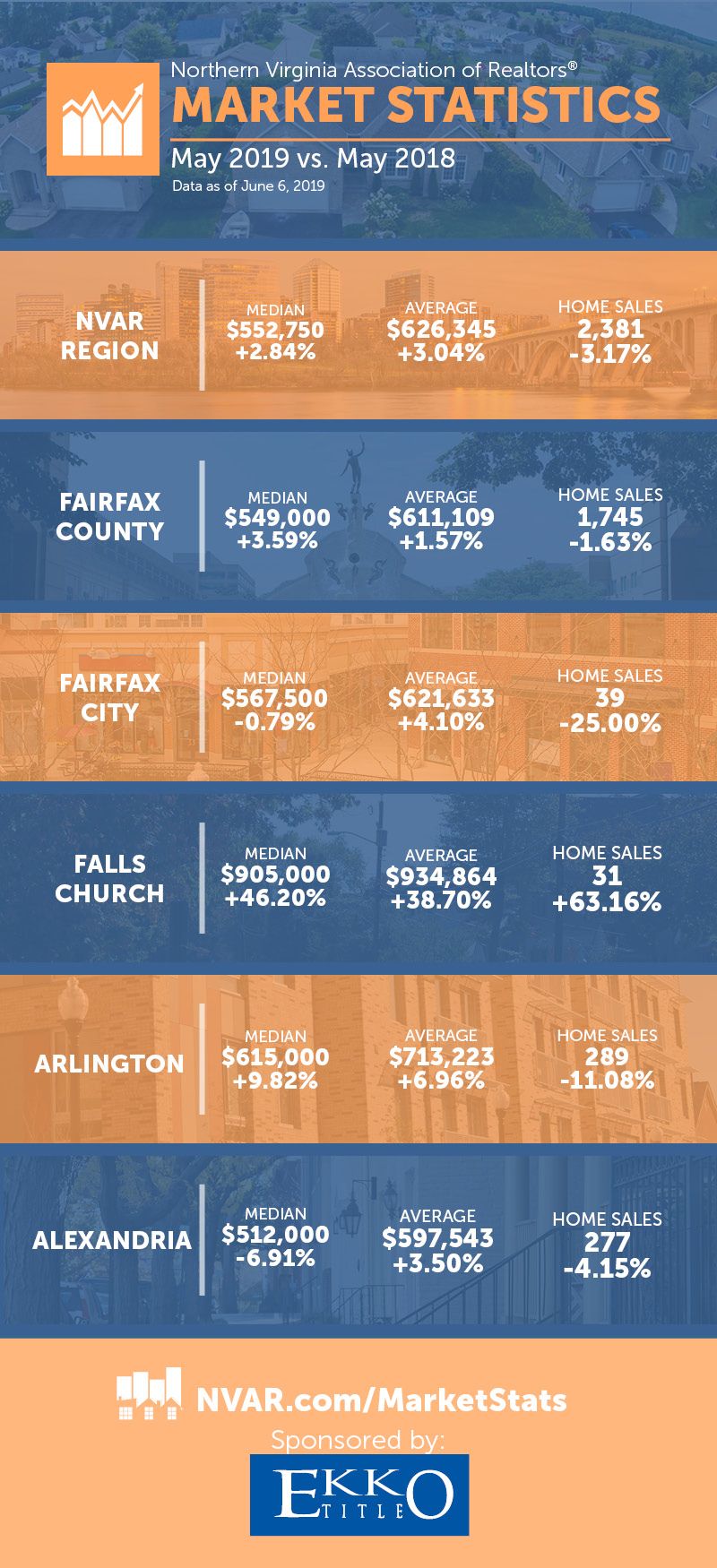 The opportunity to move up with today's low interest rates has never been greater!
I'd love to discuss your home's updated value and a time table that works for you.
Give me a call