Market Statistics: September 2017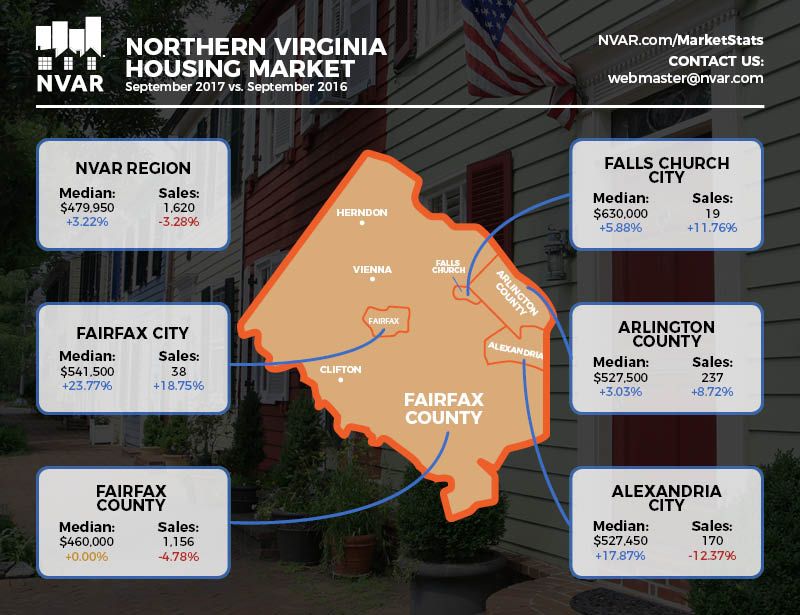 September Market Stats Kick off Second Busiest Time of Year
Serious Buyers Are Not Afraid to Enter NOVA's Stable Housing Market
Fairfax – "For potential home buyers and sellers, the Halloween season can bring a different kind of fear: the fear of missed opportunity. But fear not," said Northern Virginia Association of Realtors® Chairman of the Board Bob Adamson. "While spring months are our market's busiest, the slight winding down in the fall market could mean that serious buyers have less competition for properties."
Adamson explained that informed sellers and buyers know that deals can be made well into the school months, and our region has been trending favorably with a year-to-date rise of 4.54 percent in sales. In September, sales numbers dipped to 1,620 compared to the 1,675 sales that took place last year, a slight 3 percent decrease, he said. Such a percentage change is marginal, he noted.
No reason to think that buyers are hesitating in this market, said Gary Lange, Weichert Realtors® in Vienna, and an NVAR board member. "Rates have remained steady and below what was predicted at the beginning of the year," he said. "
The increase in Under Contracts of 22 percent compared to last year at this time proves that buyers have more options compared to earlier in the year.
In September, 629 homes were under contract compared to 515 in September last year.
Lange pointed out that some prospective buyers do not want to do any work to the house unless they are buying a bargain. "Sellers are unwilling to price their homes where buyers think there is a deep discount," he said. "Inventory is relatively stable but not enough to change sellers' demands for top dollar or close to top dollar for their homes." He explained that as sellers become eager, "they are making price adjustments, and that is helping to move some inventory."
NVAR CEO Ryan Conrad points to the Northern Virginia market's stability. "Homeownership is still alive and well, and our Realtors®' clients are savvy about our existing market conditions. This fall does present challenges for the entry level buyers, with continued lean lower-priced inventory.
"But, the pricing of housing at all levels underscores our strong housing market. Buying a home in Northern Virginia will reap long-term appreciation while providing our buyers with an enriched quality of life. Our region offers the benefits of steady work, great places to play, first-rate education and health care and much more." Conrad remains optimistic that 2017 will finish as a stable year for the local real estate industry.
September 2017 Northern Virginia Home Sales Compared to September 2016


The Northern Virginia Association of Realtors® reports on September 2017 home sales activity for Fairfax and Arlington counties, the cities of Alexandria, Fairfax and Falls Church and the towns of Vienna, Herndon and Clifton.
A total of 1,620 homes sold in September 2017, a 3.28 percent decrease below September 2016 home sales of 1,675.
Active listings decreased in September by 6 percent compared with 2016. This past September, there were 4,560 active listings, compared with 4,853 homes available in September 2016. The average days on market (DOM) for homes in September 2017 was 42 days, a decrease of 17.65 percent compared to the 51 DOM for homes in September 2016.
The average home sale price rose to $553,440 from last September's average of $532,554. This was a 3.92 percent increase.
The median sold price of homes this September, which was $479,950, rose by 3.22 percent compared to the median price of $465,000 in September 2016.
The 1,756 new pending home sales in Northern Virginia in September were 3.91 percent above the 1,690 new contracts pending in September last year. Total pending sales in September were down by about 4 percent, to 2,218, compared with 2,306 pending contracts in September 2016.
From: NVAR