January 2020 vs.
January 2019
The Northern Virginia Association of Realtors® reports on January 2020 home sales activity for Fairfax and Arlington counties, the cities of Alexandria, Fairfax and Falls Church.
A total of 1,065 homes sold in January 2020, a 5.5% decrease below January 2019 home sales of 1,127.


Active listings decreased this month compared with 2019. Listings were down about 15.5% below last year, with 1,479 active listings in January, compared with 1,750 homes available in January 2019.


The average days on market (DOM) for homes in January 2020 was 33 days, a decrease of 25% compared to the 44 DOM for homes in January 2019.


The average home sale price rose by 13.72% compared with last January, to $642,565. The January 2019 average sale price was $565,032.


The median sold price of homes this January, which was $520,000, rose by 5.05% percent compared to the median price of $495,000 in January 2019.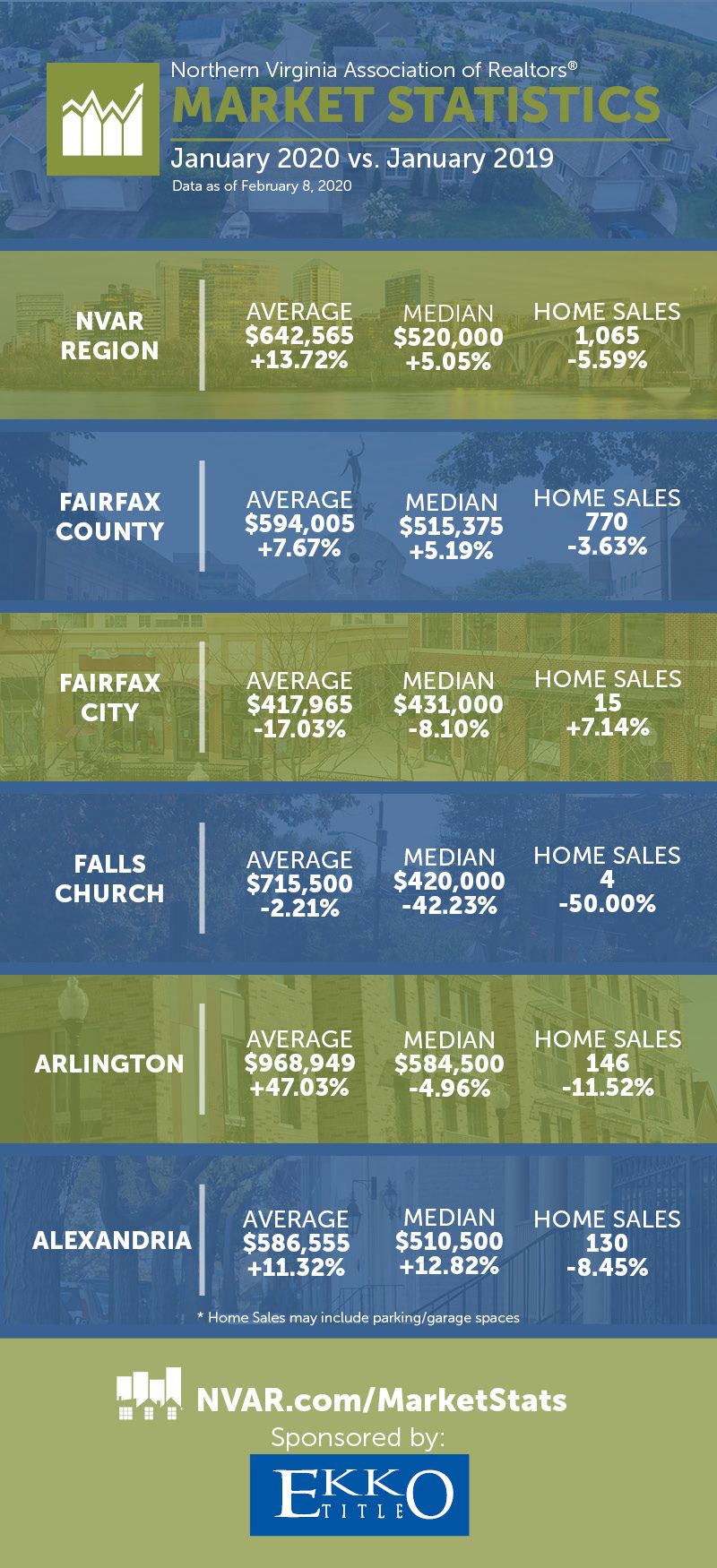 What it means for local home sellers & buyers
"With falling interest rates and rising mortgage application rates, prospective home buyers in Northern Virginia joined the ranks of others across the U.S. in January hoping to take their housing dollars further," said Ryan Conrad, CEO of the Northern Virginia Association of Realtors®. "Buyer interest, combined with a limited number of homes on the market, kept our NVAR Realtor® members busy in a traditionally slower time for home buyers and sellers," says Conrad. Prices continue to reflect the shortage of available homes for sale in Northern Virginia.
The NVAR region saw the average sold price increase by about 14% over January 2019. "Close-in locations like Arlington and Alexandria had a surge in the average sold price when compared to 2019," says 2020 NVAR President Nicholas Lagos, "While Bright MLS sales data for Arlington County reflects a year-over-year average sold price increase of 47% in January, that number is skewed by the sale of one home in the $5 million-plus range," Lagos says. "This is an excellent reminder that it's important to understand the context when viewing market statistics. We Realtors® always say that all real estate is local – and that is why prospective buyers and sellers rely on us to provide analysis on a hyper-local neighborhood-by-neighborhood basis," Lagos explains. In Alexandria, the average sold price for homes in January was 11.32% above the January 2019 average.
There is good news for veterans, however, when it comes to home prices. Beginning January 1, pursuant to the Blue Water Navy Vietnam Veterans Act of 2019, VA-guaranteed home loans are no longer limited to the Federal Housing Finance Agency conforming loan limits, which means that qualified veterans will now be able to obtain a no-down-payment home loan in all areas, regardless of the loan amount. In high-cost regions such as Northern Virginia, this change could be significant for veterans looking to buy.
A tight listing inventory remains the primary news story for 2020. "The number of listings available for sale in Northern Virginia has been dropping steadily for the last four years, says 2020 NVAR President-Elect Derrick Swaak. "At the end of 2019, Virginia Realtors® reported that listing inventory in Northern Virginia was down 41% from 2018. There seems to be little expectation that the number of homes available for sale will rebound in 2020 as inventory was 16% lower in January compared to January of 2019.
While we have come to expect multiple offer situations in places like Arlington and Alexandria, we're now seeing some homes in traditionally slower markets, such as Great Falls and Clifton, selling at close to full price in a matter of days," Swaak says. The Northern Virginia market will continue to remain competitive as long as the number of available homes is low. "The thirst for inventory continues to drive prices higher," says Lagos. "A buyer being prepared, organized and well-funded will be the key to securing a property in this tight market," Lagos adds.