Deck Renovations That Pay You Back
With the warmer weather here for a while longer and barbecue season in full swing, outdoor decks can become a haven. You can entertain, hang out and be lazy or enjoy a nice sunset by yourself.
Remodeling Magazine's 2016 Cost vs Value Report recently stated that a brand-new wooden deck added to your home will net you a 75% return on your investment when you decide to sell. This makes a deck renovation one that really pays off. Whether you want to build one from scratch or just want to expand on the one you currently have, here are some tips on how to get your deck on this summer that will pay you back down the road.
Free Advice
Before you start gathering your wood, hammers and nails, check out the amazingly useful free deck guide from the American Wood Council. Free expert advice is a huge asset before you get started. Safe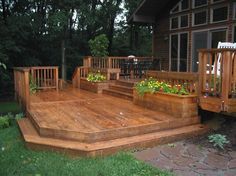 construction specs can be found so that you get your rim joists and ledger boards exactly where they should be. This is also a good time to decide just how big you want to go- a 200-square-foot deck will cost around $4,836. Keep in mind that the costs may not stop with the materials, an addition could increase your property taxes and insurance rates. Get the hard numbers set beforehand so that you can figure out your overall budget.
Getting started
In general, a contractor will charge $35 per square foot to build a deck. The cost varies hugely when it comes to material tough. Hollow-core PVC can cost as little as $7.50 per square foot. Cedar can cost even less at $3.50 and at the high end, Brazilian hardwood ipe runs $22 or more.
The best way to save money is to design your deck for the standard length of lumber: 6, 8, 10 or 12 foot boards. You can also buy secondhand wood from local salvage shops. Habitat for Humanity, for instance, sells reclaimed wood from demos. Not only might you score some unique hardwoods, but the savings can have a huge impact.
Protect your investment
Your deck will be constantly subjected to the elements- wind, rain, sun and snow. Waterproofing your deck regularly can help ensure longevity. Water is the worst; it can cause direct damage such as rot and indirectly damage the wood via mold.
As an alternative to waterproofing your deck, you could use a quality wood composite, which will cost more initially, but should last longer and not require you to treat the deck every year.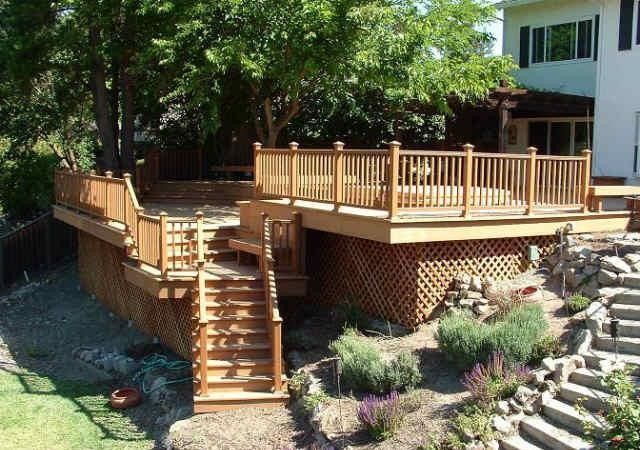 Outdoor entertainment
Keep outdoor entertainment as your focus for any deck design. When you resell your home, any new buyer will immediately see the appeal of your deck as a space to entertain. It's imperative that guests have a place to sit. An easy way to include more seating in your design is to add a built-in bench.
Don't forget lighting
If you plan to spend any time on your deck after sunset, you will need a light source. Simple ground lights to stringing fairy lights and even solar lights are all options that can build a well-lighted space with style.
Avoid fire
Portable and built-in fire pits are attractive and cozy. They are also the main source of deck fires. Embers can blow out of the pit and the heat from the pit itself can ignite the wood deck. The results can be tragic, with homes burned all the way down. If you want a fire pit, make sure it's in the backyard far away from anything flammable. And if you still want a nice heat source for your deck, consider a patio warmer.
There are many home improvement projects you can take on to increase the value of your home. If you are considering ways to make an improvement with the most impact, I would be happy to offer you my suggestions. You can reach me via email at [email protected] or call me at 703-824-4800.