April Had Cool Temps But The Market Heated Up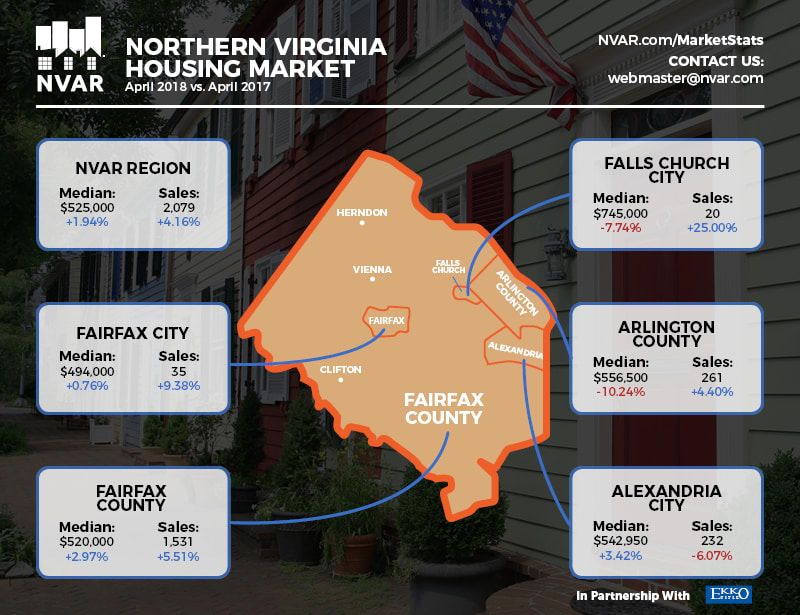 Record Overall Sales in Northern Virginia; Total Active Listings, Pendings Have Room to Grow
April home sales numbers hit a record high for the past decade in the combined area of Fairfax County, Arlington County, Alexandria and Falls Church, with 2,079 sales, which is 4 percent higher than the 1,996 homes sold last year at that time.

"While we are nearing the height of the spring season, we have already reached a high water mark this year with April's sales,"

said Lorraine Arora, NVAR chairman of the board and Weichert Fairfax Regional managing broker. "It is actually the best April in the last decade for the total number of sales in our NVAR footprint. This sales activity reflects a sound buying climate. It shows that our buyers' timing of the market, decisions about their housing choices and their mortgages have aligned," she said.
"With interest rates still low, my buyers are motivated to buy," said Peter Nguyen, a Realtor® with TTR Sotheby's International Realty. "Their frustration is the low inventory of homes. In hot areas like Merrifield, Arlington, Reston and Tysons, my buyers are experiencing multiple offer situations.
"My sellers are motivated to sell," explained Nguyen. "However, they are going up against buyers without a home-sale contingency. As listing agents, we should be creative for our clients when listing their properties and helping them with their new home purchase at the same time. Frustrations on the seller and buyer sides can exist, but the incentive of the still low interest rate outweighs the frustration."
According to NVAR CEO Ryan Conrad, "April showed a great bounce in the step of our housing market. We are seeing that our strong market fundamentals prevail over the long term and help push the number of home sales and their values upward. Clearly, our challenge remains in entry level housing. In April, just 14 percent of sales were under $400,000. Of the 2,079 homes sold, only 294 were priced at entry levels."
Conrad expects that as mortgage rates rise slightly and the new tax law impacts on homeowners become clear, prospective buyers will have a better understanding of their purchasing power. Price gains could moderate during this transition period, he explained. People will have to adapt to their 'new normal' when it comes to buying power and tax breaks, he said.
April 2018 Regional Home Sales Compared to April 2017: Northern Virginia
The Northern Virginia Association of Realtors® reports on April 2018 home sales activity for Fairfax and Arlington counties, the cities of Alexandria, Fairfax and Falls Church and the towns of Vienna, Herndon and Clifton.
A total of 2,079 homes sold in April 2018, a 4 percent increase above April 2017 home sales of 1,996.
Active listings decreased this month compared with 2017. Listings were down about 17 percent below last year, with 3,576 active listings in April, compared with 3,446 homes available in April 2017. The average days on market (DOM) for homes in April 2018 was 29 days, a decrease of about 19 percent compared to the 36 DOM for homes in April 2017.
The average home sale price rose slightly compared with last April, to $586,058. This is up about 2 percent compared to April 2017, when the average price was $574,767.
The median sold price of homes this April, which was $525,000, also rose by about 2 percent compared to April 2017, when the median price was $515,000.
The 2,678 new pending home sales in Northern Virginia in April were about 4 percent below the 2,577 contracts that were pending in April last year. Total pending sales in April were down by 9.29 percent, to 3,174, compared with 3,499 pending contracts in April 2017.