Stop! Don't Replace It- Refurbish It!
Refurbish!
Whether you're thinking about ways to refresh your house before putting it on the market or you just want to change a worn-out element into an updated element, look no further. Update the look of your home without the hassle, expense and inconvenience of remodeling. Here are some areas to refurbish in your home from the ground up.
Wood flooring
You can literally strip away years of use from your wood floor by sanding and staining. You can also pain the floors a new color or even try out a pattern.
Cabinets and Drawers
Instead of replacing your cabinets and spending thousands of dollars, you can improve the look of your kitchen with just a few tweaks. Reface by replacing only the drawer faces and the cabinet doors. Sand and restain the doors, framework and drawer faces. Or paint the whole visible areas of your cabinets and drawers. All of these options are cost effective compared to replacement and have a big impact.
Kitchen Sink
This is probably one of the most used areas in your home. To make it look fresh again, polish up the old hardware. Replace the faucet to add more functionality like pullout/retractable faucets or replace the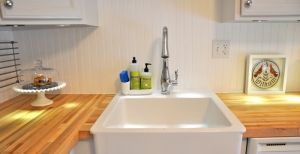 basin. These are not complicated projects, with a moderate skill level, that are still inexpensive and look awesome.
Range Hood
The hood vent above the stove can date your kitchen. Updating the look can make a big impact with very little time and expense required. Old hoods often aren't very efficient and can look dirty after many years of service. Fortunately, these appliances are in a standard size and replacing them is super easy.
Lighting and Ceiling Fans
New lighting and fans can be very expensive. But repainting fixtures, bases, fan blades and housing with an updated color scheme can update the overall look. You can also replace just the shades or light covers.
Any of these steps can give your home the fresh look you crave without the hefty price tag. For more ideas on how to update your home, follow our blog. And for all of your real estate needs, give me, Casey O'Neal a call at 703-824-4800.