November 2018 Market Statistics
November's Northern Virginia New Under Contract Sales Jump Nearly 90 Percent in the Wake of the Amazon News; Despite Lean Inventory, Market Sentiment is Not Dampened,
Fairfax – "While there is speculation about the real estate market showing signs of softening nationwide, our Northern Virginia data still reflects a promising direction," said Northern Virginia Association of Realtors® CEO Ryan Conrad.
According to Derrick Swaak, managing broker of TTR Sotheby's International Realty in Mclean, "The market seemed to have pivoted from a seller's market this spring to a softer buyer's market this fall, probably because of a lack of inventory, stock market gyrations, and mortgage rates that have been creeping up slightly."
November 2018 Regional Home Sales Compared to November 2017: Northern Virginia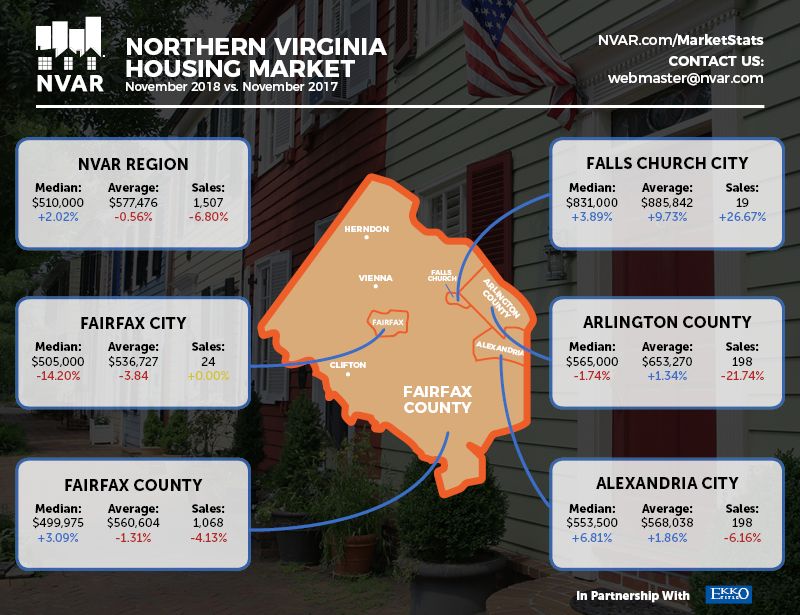 Explained Conrad, "The new pendings in our NVAR footprint are up 11.5 percent, which means that these homes are ready to proceed to close. Arlington's new pendings are up more than 46 percent compared to 2017. Alexandria's new pendings rose 27 percent, and we believe these spikes may stem from one reason: The Amazon effect."
While new employment and new business are highly anticipated, "November's housing market continued to be affected by the dearth of available houses for sale in Northern Virginia," said Swaak.
"The pleasant surprise from November's housing market data was a significant pop in new contracts," Swaak added. "New under contract sales jumped nearly 90 percent in the NVAR footprint, which means that a buyer's offer has been accepted by the seller. Some of that increase was a reaction to an unexpected, but welcome, retreat of mortgage rates in the second half of the month, plus a frenzy of condo buying activity in the areas surrounding Amazon's new H2Q location in Crystal City."
NVAR President Lorraine Arora noted, "It is increasingly important that our practitioners become hyper aware of market conditions since Crystal City and Alexandria have become a hotbed of market action." That also has a ripple effect to outlying areas, even crossing the river, she said.
"The average rate for a 30-year fixed-rate mortgage of 4.75 percent is still reasonable, and consumers know rates could rise again," Arora said. "The new tax law will likely not become a drag in our Northern Virginia market considering our local economy's direction. Demand will drive sales. If we could only create a solution for our affordable housing challenge: our inventory is lean at low price points and that must change."
November 2018 Regional Home Sales Compared to November 2017: Northern Virginia
The Northern Virginia Association of Realtors® reports on November 2018 home sales activity for Fairfax and Arlington counties, the cities of Alexandria, Fairfax and Falls Church and the towns of Vienna, Herndon and Clifton.
A total of 1,503 homes sold in November 2018, a decrease of 7.05 percent below November 2017 home sales of 1,617.
Active listings, which include detached, attached and condo/coop properties, decreased this month compared with 2017. Listings were down 11.87 percent below last year, with 2,851 active listings in November, compared with 3,235 homes available in November 2017.
The average home sale price fell by less than 1 percent compared with last November, to $577,476. The November 2017 average sale price was $580,733.
The median sold price of homes this November, which was $510,000, was 2 percent above the November 2017 median of $499,900.
The 1,704 new pending home sales in Northern Virginia in November were 11.45 percent above the 1,529 contracts that were newly pending in November last year. Total pending sales of 2,123 in November were up by 8.26 percent, compared with 1,961 total pending contracts in November 2017.
Selling Your Home?
Get your home's value - our custom reports include accurate and up to date information.
Get Home Value