May 2018 Regional Home Sales Compared to May 2017 For Northern Virginia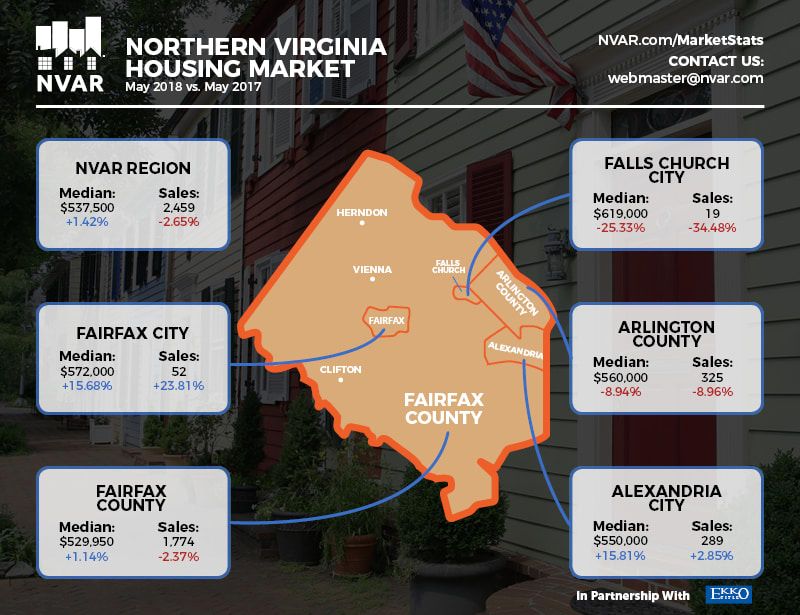 The Northern Virginia Association of Realtors® reports on May 2018 home sales activity for Fairfax and Arlington counties, the cities of Alexandria, Fairfax and Falls Church and the towns of Vienna, Herndon and Clifton.
A total of 2,459 homes sold in May 2018, a 2.65 percent decrease below May 2017 home sales of 2,526.
Active listings decreased this month compared with 2017. Listings were down almost 12 percent below last year, with 3,788 active listings in May, compared with 4,299 homes available in May 2017. The average days on market (DOM) for homes in May 2018 was 29 days, a decrease of about 9 percent compared to the 32 DOM for homes in May 2017.
The average home sale price rose slightly compared with last May, to $607,886. This is up about 3 percent compared to May 2017, when the average price was $589,080.
The median sold price of homes this May, which was $537,500, rose by less than 2 percent compared to May 2017, when the median price was $530,000.
The 2,708 new pending home sales in Northern Virginia in May were about 2 percent below the 2,770 contracts that were pending in May last year. Total pending sales of 3,241 in May were down by about 8 percent, compared with 3,530 pending contracts in May 2017.