Market Statistics: March 2018
Monetary Policy, Tax Changes Do Not Affect Northern Virginia's Serious Clients, March Home Sales Track Evenly with Last Year, According to The Northern Virginia Realtor Association.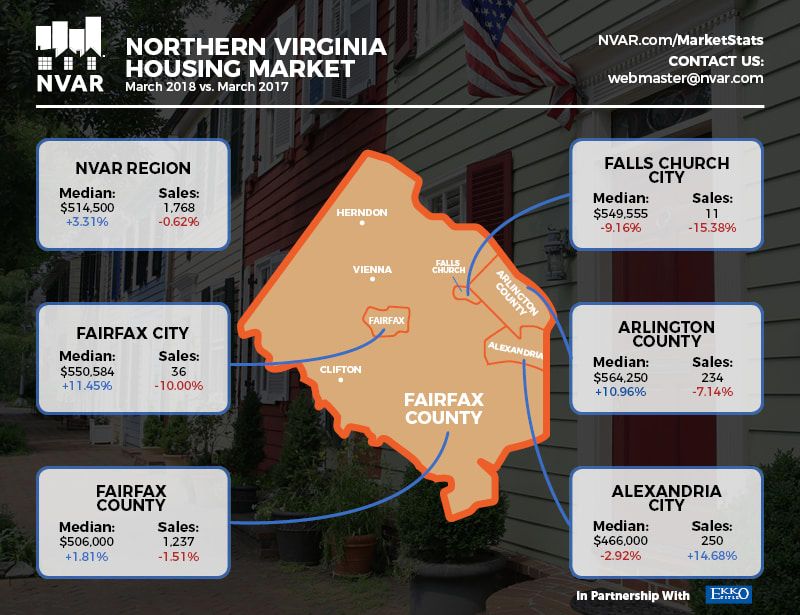 March home sales numbers in the combined area of Fairfax County, Arlington County, Alexandria and Falls Church totaled 1,768 sales, which is close to the 1,779 homes sold last year in March. This volume of transactions in the Northern Virginia Association of Realtors® region reflects stability: demonstrating that qualified clients are proceeding with their housing decisions regardless of interest rates or tax bill change news, said NVAR Chairman of the Board Lorraine Arora. "That said, we see caution in some buyers since our region's home prices have steadily risen and bidding wars have been occurring for many homes."
Some entry level buyers are taking their time. Realtor® Dallison Veach of The Veach Realty Group withRE/MAX Executives sees that entry-level clients of all ages can be frustrated. "I was working with a first-time home buyer, with a modest income as a [long-time local] teacher. She's been renting all her life and decided to buy because [of rising rents]," she said. Her client had a Virginia Housing Development Authority loan, and bid full-price on two condos. Both offers were rejected because the client couldn't participate in a bidding war that would have priced her out, Veach said. My client ultimately decided to continue to rent.
Traffic at properties had been busy in spite of last month's record cold temps. "March has been an exceptionally brisk market as prepared buyers are rushing to take advantage of current interest rates," said Ann Yanagihara, Coldwell Banker Residential Brokerage branch vice president. "Properly priced properties often sell in the first week on the market and over list price because of multiple contracts." She advises that clients be aware of the critical market factors that could cause listings to become stale quickly. "The maximum exposure that a listing agent can provide is also critical to ensuring that the sellers attract buyer traffic during the first weekend on the market," said Yanagihara.
Buyers can also benefit by being among the first buyers viewing properties and competing with strong, reasonable offers, she explains.
According to NVAR CEO Ryan Conrad, "
Tight supply and our high-cost area have been challenges in our region, however those who have prepared for a home purchase believe it is smarter to decide now since prices and related costs will likely rise later in the year.
Our Realtor® members are reporting that serious clients are not basing their housing decisions on issues in the news. Our March sales numbers track perfectly level with last year. What would help the market the most would be an influx of new affordable homes."
Veach notes that the current lean inventory presents a headwind. "Clients who are moving into the area are having a little more difficult time finding a suitable property," she explained. "They are often having to make some compromises in their selections."
March 2018 Regional Home Sales Compared to March 2017: Northern Virginia
The Northern Virginia Association of Realtors® reports on March 2018 home sales activity for Fairfax and Arlington counties, the cities of Alexandria, Fairfax and Falls Church and the towns of Vienna, Herndon and Clifton.
A total of 1,768 homes sold in March 2018, a decrease of less than 1 percent below March 2017 home sales of 1,779.
Active listings decreased this month compared with 2017. Listings were down about 21 percent below last year, with 2,891 active listings in March, compared with 3,667 homes available in March 2017. The average days on market (DOM) for homes in March 2018 was 42 days, a decrease of about 19 percent compared to the 52 DOM for homes in March 2017.
The average home sale price was essentially flat compared with last March, at $568,576. This is up by barely 1 percent compared to March 2017, when the average price was $565,964.
The median sold price of homes this March, which was $514,500, rose by 3.31 percent compared to the median price of $498,000 in March 2017.
The 2,417 new pending home sales in Northern Virginia in March were 7.25 percent below the 2,606 contracts that were pending in March last year. Total pending sales in March were down by 10.72 percent, to 2,740, compared with 3,069 pending contracts in March 2017.