August 2018 Home Sales Recap
August Home Sales: 1 Percent Rise; Active Listings & Pendings Dip, First-Time Homebuyers Start Their Equity Clocks Ticking While Interest Rates Remain Good
With many August home sales data points tracking horizontally or up, leaders at the Northern Virginia Association of Realtors® conclude that the anticipated expected tax deductions have not adversely affected Northern Virginia home sales.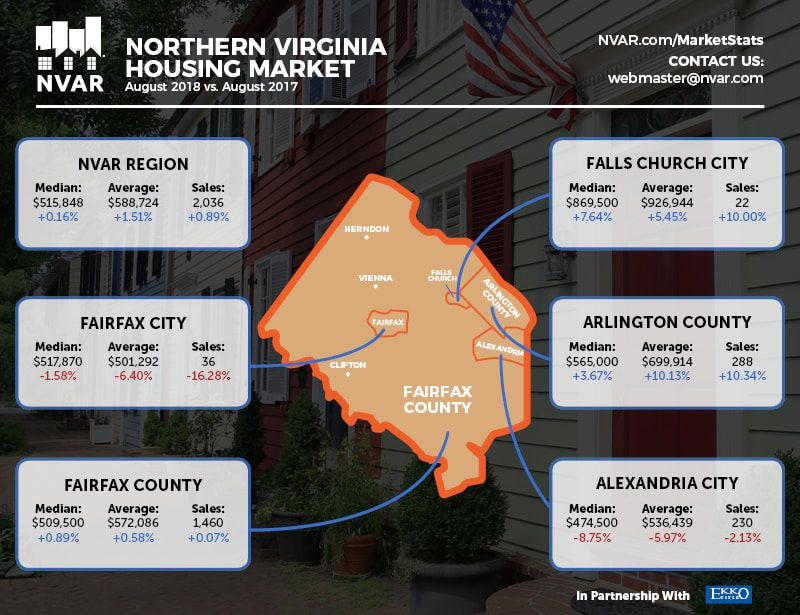 "For the short term, the limits to the state and local tax deductions (SALT) appear to be only a slight headwind to buyer confidence in our region," said 2018 NVAR Chairman Lorraine Arora.

"We are showing slight increases in our average sold and median sold prices for August along with homes that are on the market an average of 34 days."

She pointed out that the 2,036 home sales in August reflect a stable trendline in the local housing market with overall average equity gains.
Explained Bob Adamson, associate broker with McEnearney in Arlington, "The prospect of future rate increases has kept the velocity of home sales at a high level and the big drop in average days on market indicates that buyers feel a little more pressure to act quickly. New contracts are up about 7 percent and new pending contracts are down about 8 percent from August last year, which could be due to lower inventory or a seasonal drop in overall purchase activity," he said.
"A house is usually the biggest investment most families make, and the process takes careful review," Said NVAR CEO Ryan Conrad. "With the average sold price for a two-bedroom townhouse at $435,000, many young adults in our region have taken their time to move out of their parents' homes and start their own households. The experience of obtaining a mortgage is a long process, so we know first-time buyers are slow to make the commitment. The good news is that when they do, their wealth building has a strong start." Entry level price points continue to be lean in Northern Virginia, he pointed out.


August 2018 Regional Home Sales Compared to August 2017: Northern Virginia
The Northern Virginia Association of Realtors® reports on August 2018 home sales activity for Fairfax and Arlington counties, the cities of Alexandria, Fairfax and Falls Church and the towns of Vienna, Herndon and Clifton.
A total of 2,036 homes sold in August 2018, an increase of less than 1 percent above August 2017 home sales of 2,018.
Active listings decreased this month compared with 2017. Listings were down 8.11 percent below last year, with 3,874 active listings in August, compared with 4,216 homes available in August 2017. The average days on market (DOM) for homes in August 2018 was 34 days, a decrease of 19.05 percent compared to the 42 DOM for homes in August 2017.
The average home sale price rose slightly compared with last August, to $588,724. This is 1.51 percent above the August 2017 average price of $579,969.
The median sold price of homes this August, which was $515,848, rose by less than 1 percent compared to August 2017, when the median price was $515,000.
The 1,753 new pending home sales in Northern Virginia in August were 7.74 percent fewer than the 1,900 contracts that were pending in August last year. Total pending sales of 1,954 in August were down by 13.58 percent, compared with 2,261 total pending contracts in August 2017.